High Tatras is the oldest resort of Slovakia located in the northern part of the country on the border with Poland. The length of the basic...
Low Tatra mountains is a massif in the center of Slovakia, being a part of Fatra-Tatra area. It is one of the most ancient and popular Slovak...
The mountains, rivers, lakes and forests in Slovakia are a kind of compensation for the lack of the sea which is given by nature by nature itself....
The mountains which occupy a considerable territory in Slovakia are an excellent place for skiing and sanitary rest. Thousands of tourists tend to...
The Danube is one of the main water arteries in Europe. It runs through some European countries such as Romania, Hungary, Croatia, Serbia,...
Museums of folk architecture in Slovakia are almost the main peculiarity of tourism in this country. It's likely that Slovak people...
Today, Slovakia is divided not only on an administrative basis. The country is also divided into special tourist areas. At present time in...
Slovakia can be called "the Land of Castles". There are regions in Slovakia like Spis district where you can see lots and lots of...
Slovakia is famous for its rivers. There are hundreds of rivers in Slovakia. Let's start with the gigantic Danube river and continue with...
Being situated in the center of Europe Slovakia has to keep to a common European cultural context. That is why the events or festivals are...
Slovakia has got well developed air links with other countries. There are 9 airline companies engaged in an organization. There are 6...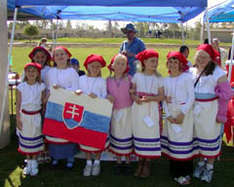 A lot of celebreties came from Slovakia, who in different time became famous practically in all spheres of human activity: from politics and...
Dumplings, kendliki, beer, cheese, wine are the brands of a national cuisine in Slovakia. The majority of tourists say that they are the best...
The climate of Slovakia is moderately continental, because it is situated in Central Europe. The warm current of the Gulf Stream is rather far...
Beer for Slovakia was and is still not only a drink but a kind of a national idea, a culinary expression of Slovak traits of character. The...
The souvenirs in Slovakia, like all the other goods for tourists, reflect the customs and traditions of the people of that country. Slovakia is...
Slovakia and wine are two inseparable concepts. And Slovak can hardly imagine his country without many vineyards. The first vine in Slovakia...